Glamping Domes
What is a glamping dome?
How much does a glamping dome cost?
How to start a glamping business?
Glamping domes are extra heavy duty dome tents suitable for year round use. Glamping domes are both elegant and extremely durable and easy to assemble. Best of all, these semi-permanent structures normally do not require building permits and can be placed almost anywhere!
We have developed a wide range of luxury outdoor glamping domes with numerous amenities to provide your guests with a distinctive glamping experience. We offer a wide range of solutions that can be custom fit your individual requirements.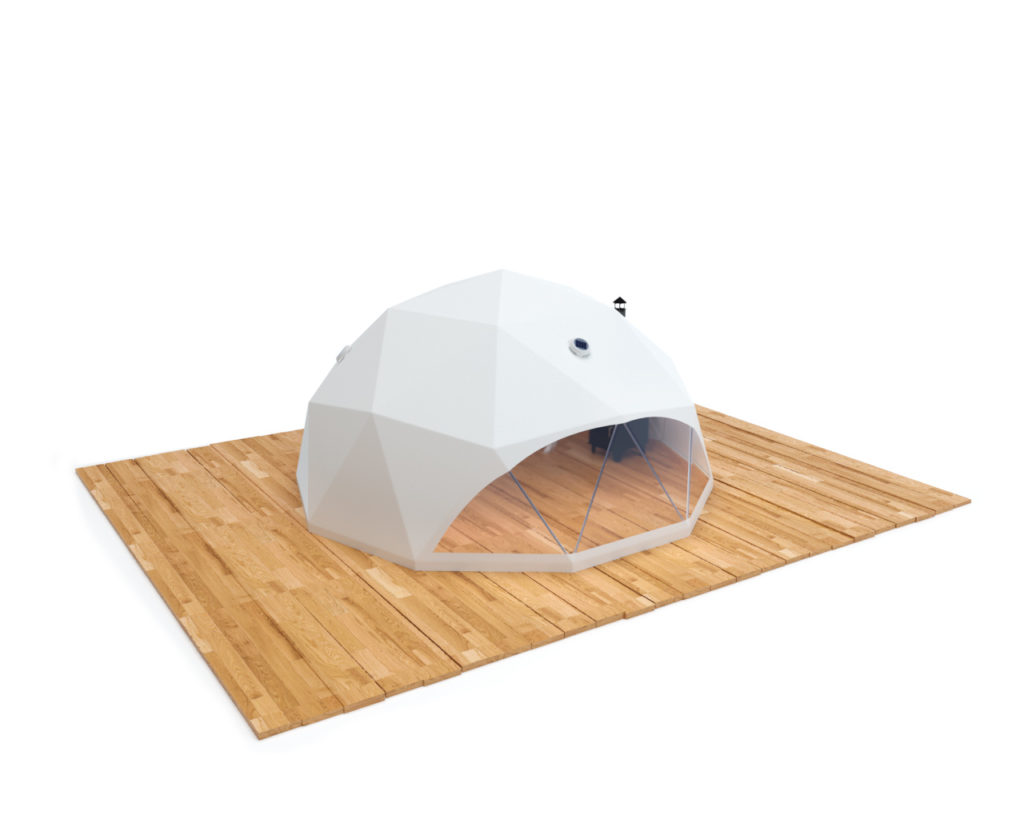 Glamping domes can be installed quickly almost anywhere
Installation of even as many as 10 glamping domes can be done by a small non-professional team in between 1 to 3 days. Each glamping dome is supported by at least 10 adjustable steel support "feet" which can be anchored to a wooden or concrete floor. Deep, traditional concrete foundations are not required. We provide you with a complete instruction manual and any needed support. If you prefer, we can also offer installation by our professional crew members. Glamping domes can be easily expanded to suit the individual needs of customers.
Glamping domes provide shelter, warmth and security
Glamping domes are constructed from high-quality, low-maintenance components. The solid construction of the galvanized steel framework can be assembled quickly and easily and ensures the stability of the glamping dome. The high-quality PVC cover is both waterproof and able to withstand the most severe weather conditions while its occupants remain safe and cozy inside. The domes are built to last and provide protection against UV radiation, with temperature resistance from -50 to +70 °C as well high tensile and anti-tear strength.
All year-round living space
You can enjoy the fun of self-contained glamorous camping during any season. The glamping domes are designed to be compact but comfortable. They are especially designed to remain safe and comfortable even in severe weather. They can also be equipped with a portable oven which will keep you warm and cozy. Domes can be easily connected to an existing electric and water supply, eco digester system or a septic tank. The technology and the quality of the material of our glamping domes is guaranteed for at least 10 years.
It's solid and easily customized
Unlike a traditional tent, our glamping domes have the ability to bear heavy rain or snow loads and thereby ensure the occupants safety. Each dome is both designed and studied in detail and then produced using the most appropriate materials for its intended use. The membrane cover can be transparent, opaque, colored or have any design or pattern you choose printed directly on it. A glamping dome can also be divided as you please. Be certain – your glamping dome will be unique! If you like, we can install a large skylight and large windows so your guests can fall asleep each night looking at the stars and wake up to watch the sunrise.
Combine them in different ways
Build a large glamping tent with separate rooms or a single accommodation – as you prefer. Combine our products and extras to build an individually unique and unforgettable place to stay. Just imagine what you can create!
What do campers say about our glamping domes
Get acquainted with real visitors' reviews who chose to stay in glamping domes designed and manufactured by Polidomes for Scotland's Loch Tay Highland Lodges resort. People are searching for closer contact with nature and a return to their roots and finding it close to nature in a glamping dome.
Glamping domes — a good way to start your own eco business
We are manufacturers and suppliers of unique glamping solutions – glamping domes, dome igloos, geodesic tree houses, etc. We offer complete technical solutions and business support in development of a glamping business from start to finish.